Formulation and Evaluation of Herbal Neem Anti-Dandruff Shampoo
Khandagale Sandip.S

Abasaheb Kakade College of B.Pharmacy Bodhegaon, Shevgaon, Ahmednagar, India

Supekar Amol.V

Abasaheb Kakade College of B.Pharmacy Bodhegaon, Shevgaon, Ahmednagar, India

Sarukh Vikram.S

Abasaheb Kakade College of B.Pharmacy Bodhegaon, Shevgaon, Ahmednagar, India

Bhasme Prajakta.S

Abasaheb Kakade College of B.Pharmacy Bodhegaon, Shevgaon, Ahmednagar, India

Shaikh Akiburrehman

Abasaheb Kakade College of B.Pharmacy Bodhegaon, Shevgaon, Ahmednagar, India

Shaikh Uwes

Abasaheb Kakade College of B.Pharmacy Bodhegaon, Shevgaon, Ahmednagar, India

Shaikh Fardin

Abasaheb Kakade College of B.Pharmacy Bodhegaon, Shevgaon, Ahmednagar, India
Keywords:
Anti-dandruff shampoo, Tulsi, Neem, Aloe vera.
Abstract
The purpose of this present research work was to formulate and evaluate anti-dandruff shampoo which was prepared from herbal plant Neem leaves and Tulsi. These two plants are major role in formulation of anti-dandruff shampoo with antimicrobial and anti-inflammatory activity. The dandruff is a common disorder which is caused by yeast over growth, there is a fungus which is lives in the scalp of peoples called Malassezia. When a shampoo used under prescribed condition removes skin debris and the dirt from the scalp. Various antifungal and antimicrobial agents or drugs are uses in the preparation of shampoos, which causes the various side effects like hair loss, scratching, discomfort. An attempt to formulate Neem anti-dandruff shampoo which is safer and healthier than other anti-dandruff shampoo's who are based on the chemicals. Herbal anti-dandruff shampoo formulated by all the herbal ingredients Neem leaves extract as API and anti-dandruff activity, Tulsi leaves which have the anti-microbial activity, Aloe vera which has moisturizing effect etc. The formulated shampoo were passed through evaluation parameter such as visual inspection, foaming capacity pH, viscosity, consistency of foam, etc.
Downloads
Download data is not yet available.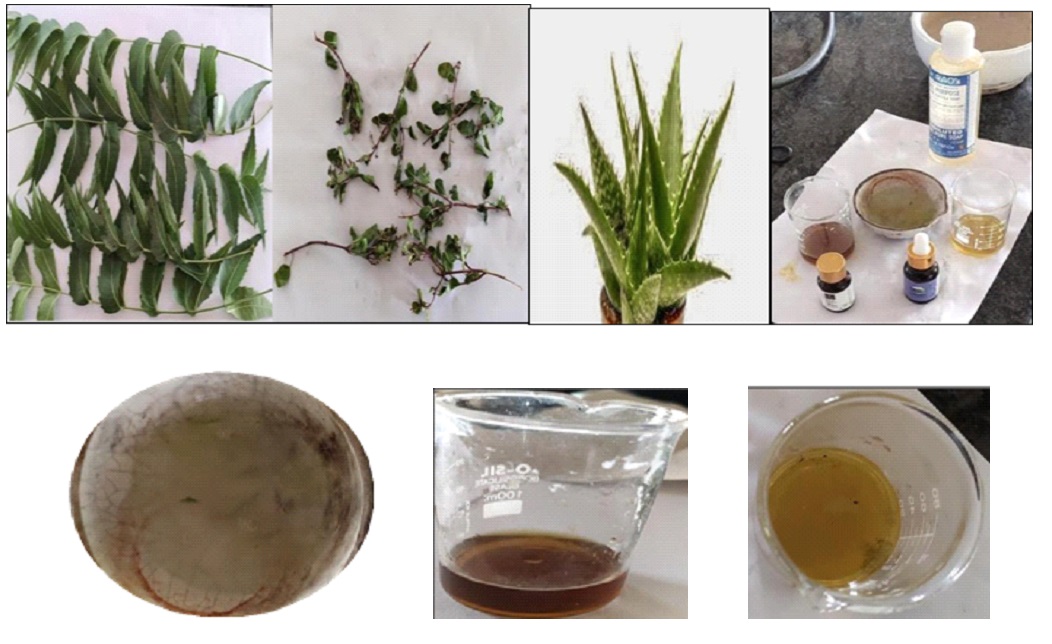 How to Cite
Khandagale Sandip.S, Supekar Amol.V, Sarukh Vikram.S, Bhasme Prajakta.S, Shaikh Akiburrehman, Shaikh Uwes, & Shaikh Fardin. (2023). Formulation and Evaluation of Herbal Neem Anti-Dandruff Shampoo. International Journal of Ayurveda and Pharma Research, 10(12), 36-41. https://doi.org/10.47070/ijapr.v10i12.2471
Copyright (c) 2023 International Journal of Ayurveda and Pharma Research
This work is licensed under a Creative Commons Attribution-NonCommercial-ShareAlike 4.0 International License.