Proximate Analysis, Phytochemical Screening and High Resolution Liquid Chromatography Mass Spectrophotometry Analysis of Essential Oils of Hedychium Coronarium J. Koenig, a Medicinal and Aromatic Plant
Kamath Vaishali

Research Scholar, Department of Botany, Ramniranjan Jhunjhunwala College of Arts, Science and Commerce, Ghatkopar Station, Ghatkopar (West), Mumbai, India

Dawda Himanshu

Head of Department- Botany, Ramniranjan Jhunjhunwala College of Arts, Science and Commerce, Ghatkopar Station, Ghatkopar (West), Mumbai, India
Keywords:
Crude drugs, Liquid Chromatography Mass Spectro-photometry, Proximate analysis, Phytochemicals
Abstract
Medicinal plants have been used in all cultures as a source of medicine since ages. When parts of plants such as rhizomes, leaves or barks and other natural materials are used as drugs to treat illnesses, they are called crude drugs and the study of crude drugs is called pharmacognosy. Proximate analysis in plants gives valuable information and help to assess the quality of a crude drug. Beneficial effects of crude drugs are believed to be attributed to plant phytochemicals. Hedychium coronarium J. Koenig, a medicinal and aromatic plant of high value is an endangered and red-listed plant. The rhizome of this plant is used for the treatment of various diseases. Crude extracts prepared from the rhizomes show antibacterial and antifungal properties. Essential oils obtained from Hedychium coronarium are found to be rich in terpenes and used for bactericidal, fungicidal, medicinal and cosmetic applications. The present study assesses the quality of crude drugs prepared from this highly medicinal plant. Proximate analysis and phytochemical screening of rhizomes of Hedychium coronarium, which is frequently consumed as food and as medicine were carried out. Ash content was found to be low) when compared to the moisture content. The water extractive value was more than alcohol extractive. Preliminary tests carried out on phytochemicals revealed the presence of terpenoids and oils. High Resolution Liquid Chromatography Mass Spectrophotometry was carried to ascertain the different components of essential oils and revealed the presence of eucalyptol (1,8-cineole), caryophyllene oxide, camphor, linoleic acid, ricinin, phloroglucinol, 6-gingerol, carvone and arjungenin.
Downloads
Download data is not yet available.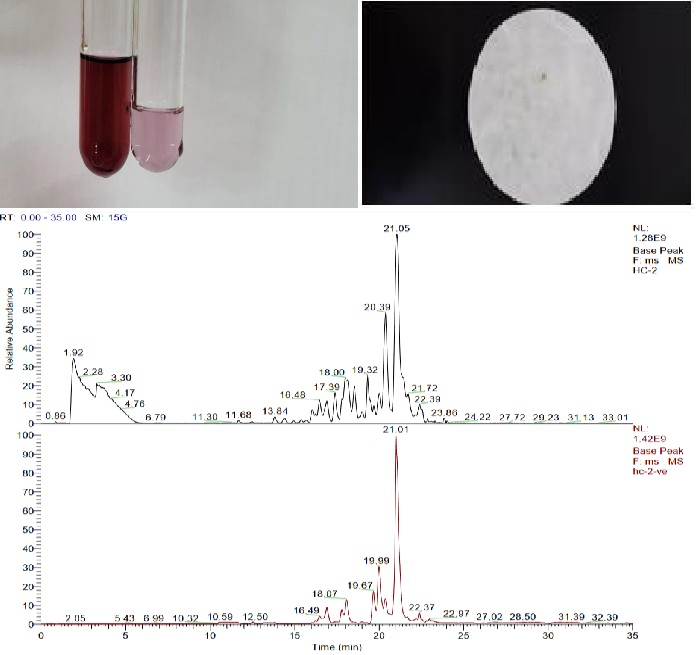 How to Cite
Kamath Vaishali, & Dawda Himanshu. (2023). Proximate Analysis, Phytochemical Screening and High Resolution Liquid Chromatography Mass Spectrophotometry Analysis of Essential Oils of Hedychium Coronarium J. Koenig, a Medicinal and Aromatic Plant. International Journal of Ayurveda and Pharma Research, 10(12), 18-25. https://doi.org/10.47070/ijapr.v10i12.2636
Copyright (c) 2023 International Journal of Ayurveda and Pharma Research
This work is licensed under a Creative Commons Attribution-NonCommercial-ShareAlike 4.0 International License.