Commentators View on Medicinal Plants of Sushrutokta Salsaradi Gana Regarding their Controversial Botanical Identity: A Review
Patel Priyalkumari Pravinbhai

PG Scholar, Post Graduate Department of Dravyaguna, Rajiv Gandhi Government Postgraduate Ayurvedic College and Hospital, Paprola, Himachal Pradesh, India

Srivastava Rashmi

Faculty, Post Graduate Department of Dravyaguna, Rajiv Gandhi Government Postgraduate Ayurvedic College and Hospital, Paprola, Himachal Pradesh, India

Upadhyaya Ashwani

Faculty, Post Graduate Department of Dravyaguna, Rajiv Gandhi Government Postgraduate Ayurvedic College and Hospital, Paprola, Himachal Pradesh, India

Pandit Ram Deo

PG Scholar, Post Graduate Department of Dravyaguna, Rajiv Gandhi Government Postgraduate Ayurvedic College and Hospital, Paprola, Himachal Pradesh, India
Keywords:
Salsaradigana, Controversial medicinal plants, Kushtha, Prameha, Pandu, Kapha-medo-vishoshana.
Abstract
Sushruta Samhita is one of the foundational literature included in the Brihat traiye literatures of Ayurveda. Out of 37 different Ganas mentioned in Sutra Sthana of Sushruta Samhita, Dravya-sangrahaniya-adhyaya; Salsaradi-gana is one of them in which 23 medicinal plants have been described.  Classically Salsaradi-gana is clinically indicated for Kushta (skin diseases), Prameha (diabetes mellitus), Pandu (anemia), and Kapha-medo-vishoshana (anti-hyperlipidaemic) disease. For this study, a review of the original commentary of Acharya Dalhana and Acharya haranchandra on Sushruta Samhita and the scientific research papers published on the medicinal plants listed in the Salsaradi-gana of Sushruta Samhita in indexed journals is done. Out of 23 medicinal plants mentioned 8 plants have controversial identification. The controversy in the identification of these medicinal plants is seen directly affecting the pharmacological action and clinical efficacy. Those 8 plants' controversial identity is cleared with the establishment of a genuine plant for each of the plants through scientific and classical justification.   
Downloads
Download data is not yet available.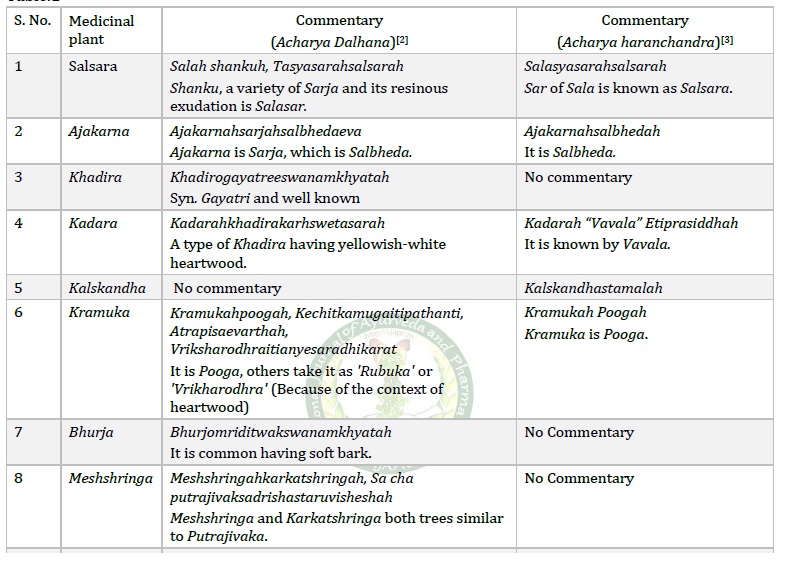 How to Cite
Patel Priyalkumari Pravinbhai, Srivastava Rashmi, Upadhyaya Ashwani, & Pandit Ram Deo. (2023). Commentators View on Medicinal Plants of Sushrutokta Salsaradi Gana Regarding their Controversial Botanical Identity: A Review. International Journal of Ayurveda and Pharma Research, 10(12), 52-26. https://doi.org/10.47070/ijapr.v10i12.2629
Copyright (c) 2023 International Journal of Ayurveda and Pharma Research
This work is licensed under a Creative Commons Attribution-NonCommercial-ShareAlike 4.0 International License.